by SimplyCustomized in Travel Specials on April 25, 2018
There's an adventure trip for every traveler, whether you prefer to bike, hike, kayak, or swim your way around the world. Peruse the following pages for memorable, boundary-pushing trips sure to inspire a step outside your comfort zone.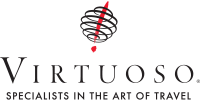 Fares, schedules, Virtuoso exclusive amenities, events and benefits are subject to availability and blackout dates and may change without notice. Unless otherwise stated, prices are in U.S. dollars, per person and based on double occupancy. Restrictions may apply. See your Virtuoso travel advisor for more details and applicable restrictions. Virtuoso is not responsible for any errors in pricing. The trademarks VIRTUOSO, the Globe Swirl Logo, SPECIALISTS IN THE ART OF TRAVEL, and ORCHESTRATE DREAMS are registered trademarks of Virtuoso, Ltd. Virtuoso, Ltd. has a U.S. copyright registration for the Globe Swirl Logo, ©2000. All rights reserved. California CST# 2069091; TA# 808 – Registered Iowa Travel Agency; Washington UBI # 601 554 183. Registration as a seller of travel does not constitute approval by the State of California. 301805 US/CAN AGT/STF 04/18
© 2018 Virtuoso, Ltd. |

777 Main Street, Suite 900 | Fort Worth, TX 76102
Don't wait to start planning your next vacation!
CALL NOW to schedule a complimentary
consultation with Trish!
Phone: 239.494.5226
"My expertise is cutting through the mountains of online information and illuminating your best travel options, thus saving your precious time and sanity. I customize an itinerary perfectly tailored to you, yet well beyond your expectations."
An Award Winning River Cruise Specialist & Tauck Certified Agent Luxury Travel
Hours By Appointment
6900 Daniels Pkwy 29-392
Ft. Myers, FL 33912
A Proud Affiliate of Travel Experts – An Awarding Winning Virtuoso Agency
Travel Agent in Southwest Florida
Luxury Group Travel Agent
Comments are closed.